New AYGO x-style and x-cite debut at the 2019 Geneva motor show

New x-style and x-cite models are the latest in an ongoing series of special edition AYGO versions
The x-style exterior is finished in White with an Orange Twist power-operated canvas top, and dark Orange colour accents
The x-cite has a bi-tone finish of bright Orange with a Black roof, complimented by a bright Orange front spoiler insert and Black door mirrors
Two new special editions to the Toyota AYGO model line-up make their world debuts at the 2019 Geneva motor show, the x-style and x-cite.
With an instantly recognisable frontal design and a broad range of customisation options, the second generation AYGO appeals to a more style-conscious audience than those who buy their cars for purely rational reasons.
Last year, the model was amongst the top sellers of the European A-segment with more than 91,700 units sold, and a segment share of 7.4%.
Refreshed in 2018, Toyota's designers and engineers not only reinforced the model's youthful and distinctive image, but also made the powertrain more efficient and improved the car's performance and handling characteristics to make it even more fun to drive.
DESIGN
The AYGO's iconic frontal 'X' signature has matured from a two-dimensional graphic into a more powerful, three-dimensional architectural element.
The distinctive frontal design incorporates Keen Look headlamp clusters, with integral Daytime Running Lights (DRL) further reinforcing the model's striking looks at first sight. The lower section frames the front grille, emphasising the AYGO's stable stance and the agility inherent in a compact vehicle. While under-lamp ornamentation accentuates the 'X' signature and the vehicle's width.
At the rear, the LED light guides give the AYGO a sophisticated look and make the model instantly recognisable. The unique light signature creates the perception of a compact cabin above a wider lower bumper area, emphasising the vehicle's rear width and stability.
On board, model-specific interior colours and trims upgrade the overall ambience of the cabin, the vibrancy of which is further enhanced by the coloured side register air vents.
x-style and x-cite Special Editions
The new x-style and x-cite models are the latest in an ongoing series of special edition AYGO versions. They offer customers the opportunity to stand out from the crowd with two unique models which feature a carefully considered combination of exterior and interior options.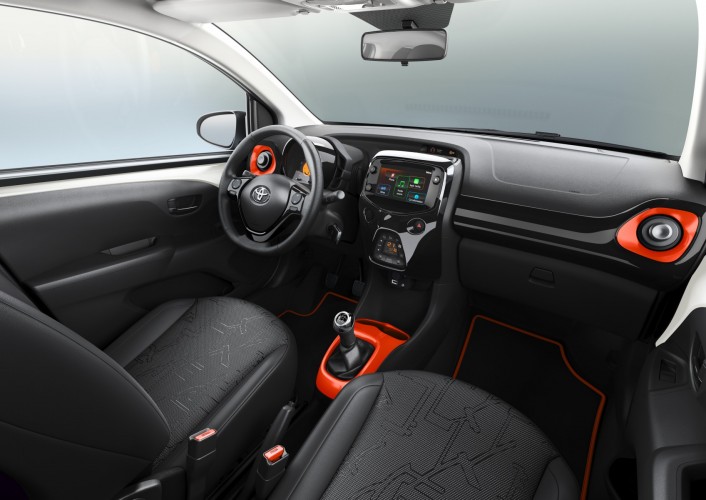 The AYGO x-style exterior is finished in White, with a large, Orange Twist power-operated canvas top with a generous 785 mm x 730 mm opening, and dark Orange colour accents to the front, rear, sides and door mirrors. It further features fog lamps, rear privacy glass, and Black machined 10-spoke 15″ alloy wheels with an Orange centre cap ring.
The interior benefits from a Piano Black finish to the centre console and dashboard insert panel, and Orange side register air vent and gearshift surrounds. It is also equipped with floor mats with an Orange border and partial leather seat upholstery.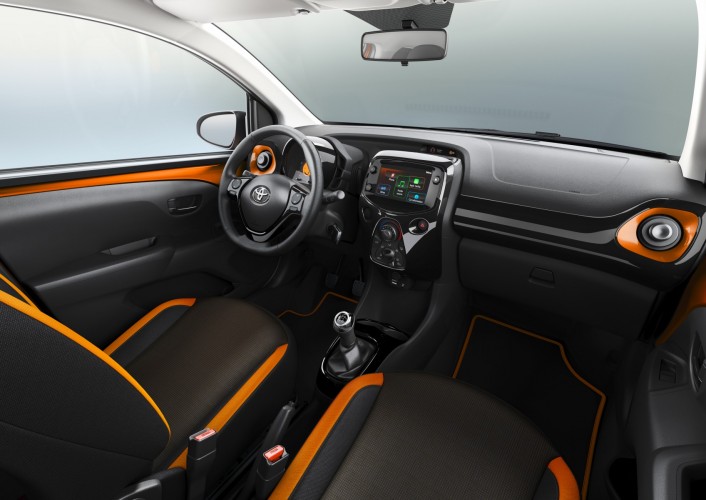 The AYGO x-cite has a bi-tone finish of bright Orange with a Black roof, complimented by a bright Orange front spoiler insert and Black door mirrors. The exterior treatment is completed by the addition of fog lamps, rear privacy glass, and glossy Black 10-Spoke 15″ alloy wheels.
The interior showcases a gloss Black finish to the centre console and dashboard insert panel, a chrome gearshift surround and Orange side register air vent. The x-cite is also equipped with floor mats with an Orange border and Manhattan fabric seat upholstery.
Both the AYGO x-style and x-cite models offer outstanding value, with an extensive range of standard equipment which includes comfort features such as air-conditioning, steering wheel-mounted audio system control switches, a height adjustable driver's seat, and an adjustable speed limiter on M/T versions.
The 7" Display Audio multimedia system supports Apple CarPlay and Android Auto through the smartphone integration[1], and comes with a rear view camera fitted as standard.
DAB is available as an option, as are smart entry & start, and Toyota Safety Sense.
Toyota Safety Sense
Toyota Safety Sense groups together active safety technologies designed to help prevent or mitigate collisions across a wide range of traffic situations.
Between speeds of approximately 10 to 80 km/h, a Pre-Collision System (PCS)[2] detects other vehicles in front and reduces the risk of hitting them from behind. When there is a possibility of a collision it prompts the driver to brake with an audible and visual alert.
PCS also primes the brake system to deliver extra stopping force when the driver presses the brake pedal. If the driver fails to react in time, the system automatically applies the brakes, reducing speed by approximately 30 km/h[3] or even bringing the car to a complete stop, in order to prevent the collision or mitigate the force of impact.
The Lane Departure Alert (LDA) system monitors lane markings and helps prevent accidents and head-on collisions caused by leaving lanes. If the vehicle starts to deviate from the lane without the indicators having been engaged, LDA warns the driver with an audible and visual alert.
POWERTRAIN
Toyota's award-winning, 998 cc, 3-cylinder, 12-valve, DOHC, Dual VVT-i engine combines an ideal balance of power, enhanced torque delivery at low engine rpm and fuel efficiency.
The engine develops 53 kW (72 DIN hp) at 6,000 rpm, and 93 Nm of torque at 4,400 rpm, accelerating the AYGO from 0-100 km/h in 13.8 seconds, and on to a top speed of 160 km/h.
The AYGO special edition models come in both standard and Eco versions. The latter benefits from a longer 4th and 5th gear, Toyota's Stop & Start system and aerodynamic improvements.
The standard version achieves a fuel consumption of just 4.1 l/100 km and CO2 emissions of only 93 g/km (WLTP: 112 g/km). The Eco version returns class-leading fuel economy figures of as low as 3.8 l/100 km and CO2 emissions of only 86 g/km[4] (WLTP: 110 g/km).
When equipped with the x-shift automated manual transmission, the AYGO returns fuel consumption of 4.2 l/100 km and generates CO2 emissions of only 95 g/km (WLTP: 117 g/km).
[1] Smartphone integration powered by Pioneer
[2] Technical name: Pre-Crash System
[3] Results achieved during testing using a vehicle travelling at 30 km/h and a stationary vehicle. System operation depends on driving environment (incl. road and weather) and vehicle circumstances.
[4] Based on Regulation EC 2017/1153 as amended EC 2017/1231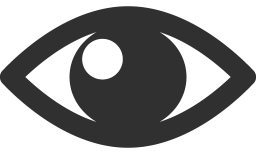 574